It's nearly time for Wharfe Wool Fair.  The last of the dyeing is drying (fingers crossed!). Everything else is labelled and with a bit of luck I'll finish knitting a sample shawl in time.
This is the third Wharfe Wool Fair, and this year it takes place in a new venue; the Clarke Foley Centre in Ilkley on 7 May 10am-4pm. It's a bigger space so there's room for 24 exhibitors, it's right next to the big car park in the centre of Ilkley and not far from the bus and train station.  There's a cafe in the centre for refreshments and plenty of cafes and bars in Ilkley itself, including the wonderful Betty's. Just round the corner from the centre, there's Morton's hardware store a wonderful aladdin's cave of, well, everything!
This is the start of the wool fair season for me so there's a few new things to introduce. The first show outing for the Shetland gradient packs; four natural shades of Shetland 4ply over-dyed to create the gradient.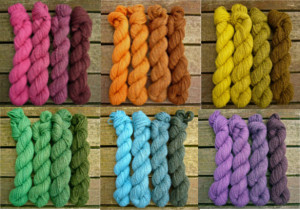 There's some new colourways on the popular Yan Sock base. 100% British BFL High Twist sock yarn:
A new colour on Tyan Lace, 80% BFL and 20% Silk, Galaxy is blue/black with little flashes of colour.
I've just finished knitting a shawl to show off Galaxy, this is Cameo Flower, a free pattern available on Knitty. Not the finest of photos, but the Bank Holiday weather scuppered any chances of outdoor photography, I think the shawl might have ended up in Norway if we'd tried to go outside!
That concludes the round up of new colours and yarn, I'll have plenty of Yan Sock 100% BFL HT sock,  Tyan Lace 80% BFL 20% Silk, Tethera 4ply 100% BFL 4ply, Methera 55% BFL 45% Silk and Lethera Shetland Gradients. I won't have Pip DK and Sethera Aran with me, but if there's something you've seen in the shop you'd like to see then let me know and I'll bring it along.
I'll also have some beautiful shawl pins, hand made by Tattysquawk in Cornwall.  They are made from aluminium so they are really light and won't weight down your shawl or scarf.
Hope to see you there! Now, back to the last minute knitting…