I'm busy preparing stock for a new wool show coming up soon.  Wharfe Wool Fair is taking place at Otley Courthouse on Saturday 10 May 2014, 10am – 4pm.  It's a show aimed at knitters, crocheters, weavers, spinners and felters with local Yorkshire suppliers, demonstrations and workshops.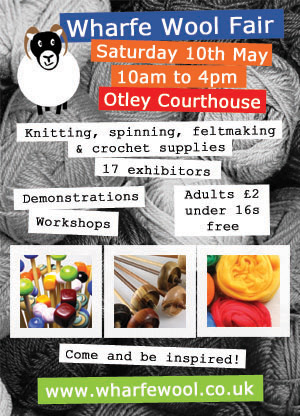 I'll have a range of British 100% Bluefaced Leicester sock yarn and 80% British Bluefaced Leicester and 20% Silk lace weight yarn.  I'll also have British fibre for spinning or felting, Bluefaced Leicester, Shetland and Wensleydale.
Have a look at the website for details of the exhibitors and workshops.  A little nearer the time I'll give a sneak preview of what I'll have on the stall.