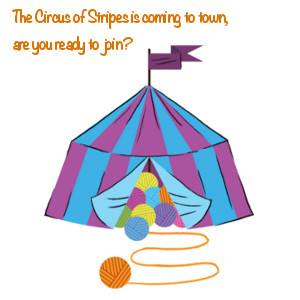 Preparations for Yarndale (24-25 September, Skipton) are well under way, but in the meantime, a little something new: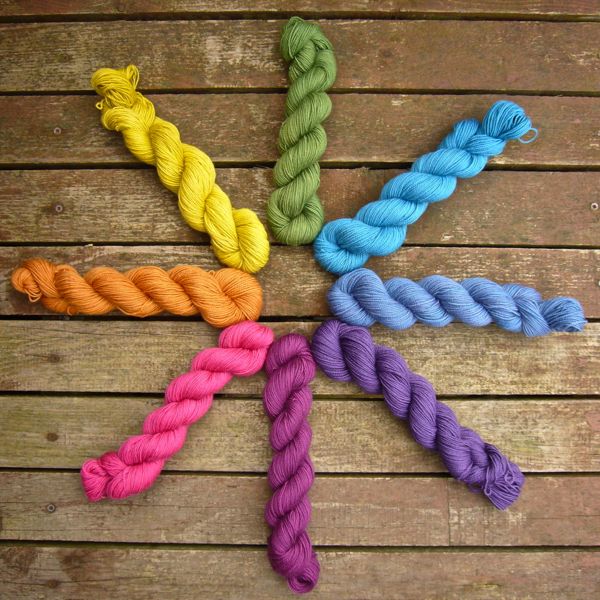 The Circus of Stripes is a troupe of eight colours naturally dyed on High Twist 100% BFL sock/4ply yarn. Each skein is 50g (182m / 199yds), perfect to mix and match for striped (or colour block) projects. Stripy socks anyone?!
Each colour is named after a circus act (clockwise from orange in the photo above):
Orange – Fire Eater
Yellow – Trapeze Artist
Green – Juggler
Aqua – Tightrope Walker
Blue – Stilt Walker
Purple – Ring Master
Pinky Purple – Tumbler
Pink – Unicyclist
What combination will you choose? A Stilt Walking Ring Master, a Fire Eating Juggler, a Tumbling Stilt Walker? Have fun, play with colour, make stripes!
The Circus of Stripes will be at Yarndale in September, but if you can't wait that long then roll up! roll up! the Circus is in town at my Etsy shop now!
I'm a big fan of stripy socks; my main aim in creating this troupe of colours was to provide a bold, bright palette from which to select exciting colour combinations for socks. For my first pair I choose Stilt Walker and Unicyclist to make a simple four-row striped stocking stitch sock.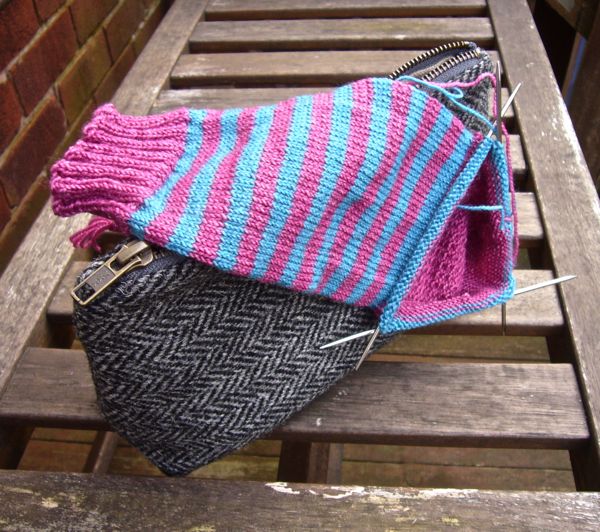 I chose two colours, but you could choose three for a pattern such as Geek, a pattern originaly written for self striping yarn, but could be adapted for separate skeins.
4ply shawls are really popular at the moment, Veera Välimäki has some wonderful designs utilising stripes including the Color Affection shawl. Martina Behm, (Strickmich and designer of the Hitchhiker shawl), is another designer who makes great use of colour and stripes in her designs, mostly recently in the Shore Hap in Kate Davies' Book of Haps.
For a rectangular scarf the recently published Paint the Town makes effective use of three different colours in stripes and blocks knitted on the bias.
Those are just a few suggestions of how to use the Circus of Stripes yarn, have a browse of the patterns on Ravelry. A pattern search of the tag 'stripes' brings up 209 pages of patterns!