Now that we're into February, the winter dyeing break is over and it's time to look ahead to new plans and developments for 2016.
New Yarns – Gradients and Stripes
I have two new lines in development for launch this Spring. The first is a very special gradient yarn, using Shetland yarn processed by the Natural Fibre Company in Cornwall.  I'll share more about this yarn later in the month and it'll be launching during the first week in March. Here's a sneak preview of one of the colourways: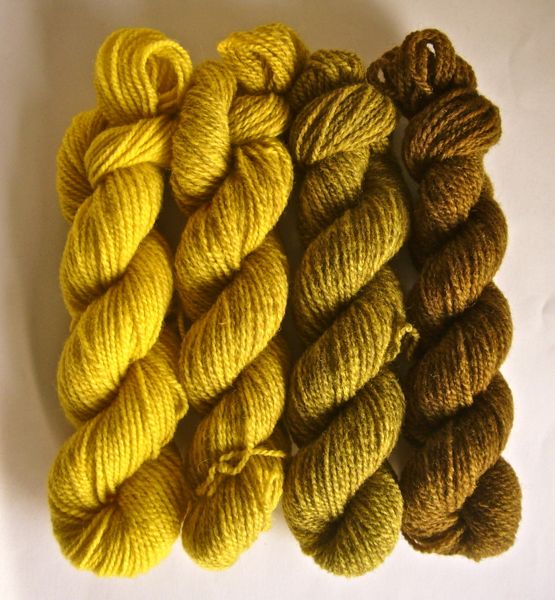 Do sign up to the newsletter to be the first to hear all about the yarn once it launches.  The sign up form is just over there on the right hand side bar.
The second new line I'll be introducing is the result of a happy accident, so to speak.  When I was ordering fresh undyed yarn from the wholesaler, my usual 100g skeins of BFL HT sock yarn were out of stock, but he did have the same yarn in 50g skeins.  I decided to order the 50g skeins anyway thinking they'd be perfect to dye up in a range of nice bright colours to then mix and match together for stripy projects!
So, keep an eye out, probably in April, for bright, bold combinations just begging to be knitted up into stripy socks, stripy hats, stripy gloves, stripy…you get the idea! I already have a sample pair of stripy socks on the needles in sky blue and raspberry.
It's show time!
It's also coming up to show time.  In May there's Wharfe Wool Fair, previously held in Otley the fair is moving to Ilkley this year to a bigger venue with a car park just across the road and with good public transport links. We'll have both new yarn lines on show for the first time, as well as the usual favourites.
Wharfe Wool Fair – 7 May 2016, 10am-4pm, Clarke Foley Centre, Ilkley, LS29 9DZ
Next up is Leeds Wool Festival to be held at Armley Mills Industrial Museum.  Some parts of the Museum were quite badly affected by the Boxing Day floods, but clean up is well under the way and the Museum should be open again soon.
Leeds Wool Festival – 6 June 2016, 10am-5pm, Armley Mills Industrial Museum, Leeds, LS12 2QF
And, of course, there's Yarndale in Skipton in September. The application has been submitted and fingers are crossed until we hear back in mid-April.
Newsletter
Don't forget, sign up to the newsletter to hear as soon as the new gradients are released!
In the meantime
Until you can see us out in the wild, the Sylvan Tiger Yarn Etsy shop is stocked up with plenty of British yarn, all dyed by me, by hand, with natural dyes.