The first batch of School of Flock yarn is now ready for you to buy, pop along to the Etsy shop.
Yarn in detail
100% wool, British bred, spun, and dyed
70% Lleyn – from my friend's flock in Shropshire
30% grey Shetland from Somerset
Worsted spun, 4ply weight
50g/175m/191yd per skein
£8 per 50g skein undyed, £9 per 50g skein dyed
Suggested needles 3 – 4.5mm
The bulk of the fleeces come from my friend's flock of Lleyn sheep which roams the rolling Shropshire hills along with Texel and Suffolk sheep.  I wanted to use the Lleyn as it's not one of the usual British breeds used for yarn, such as BFL or Shetland.  But, there's no reason for it not to be and I'd like to help expand the palette of British Breed yarns out there. It's not BFL soft, nor is it Herdwick coarse, it's got a similar hand to Shetland and it's produced a wonderful bouncy, lofty, sheepy yarn with great character.
The Natural Fibre Company processed and spun the fleeces for me, and their help was invaluable along the way, so a big thank you to Sonja, Lara and Annette.  The NFC suggested we add the Shetland yarn to soften the Lleyn slightly and give a good bounce.  We decided to add the grey Shetland to give the yarn a bit of extra character and depth for dyeing.   The yarn is worsted spun to 4ply weight and is constructed of 2 plies, it's lofty and light and wonderfully warm.  As I was knitting with it, I could feel the warmth in my hands.  It will make great shawls, hats, scarves and gloves.  Enough words, some pictures!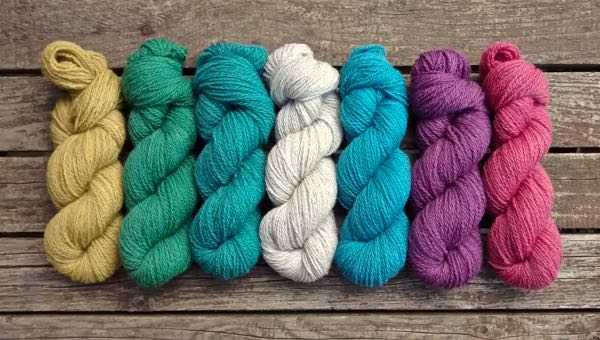 Both the Lleyn and Shetland are matt yarns and take the dye beautifully with really saturated shades.  Just after the yarn arrived back with me, we went on a walk in the Yorkshire Dales, it was a very grey February day, but still there was colour to be found.
Of course, for a yomp in the Dales, you need a good pair of boots: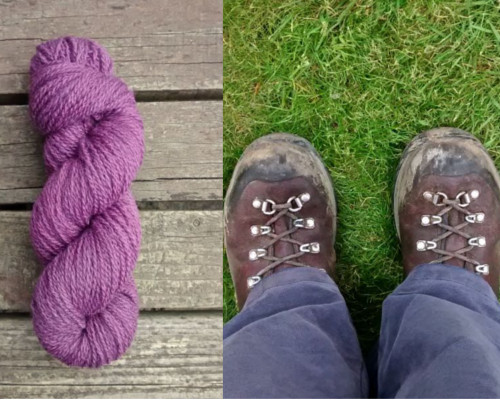 Even though it was a grey day, we came across some sunshine: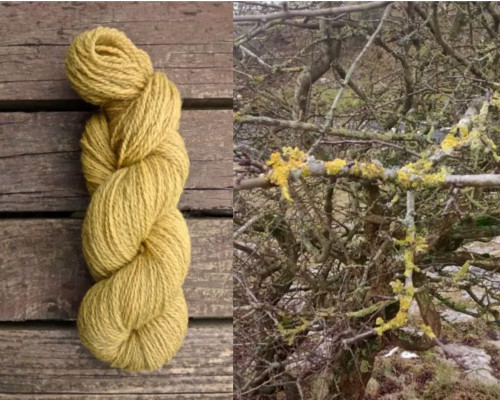 And plenty of moss on the tree stumps and walls: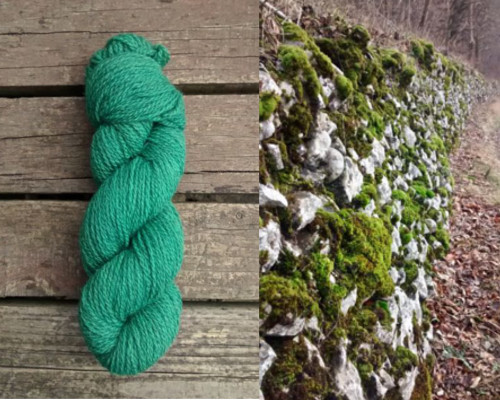 There was multi coloured lichen on the trees: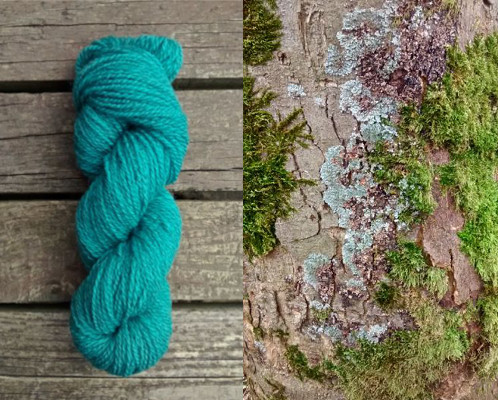 And bright pink stems on some dogwood: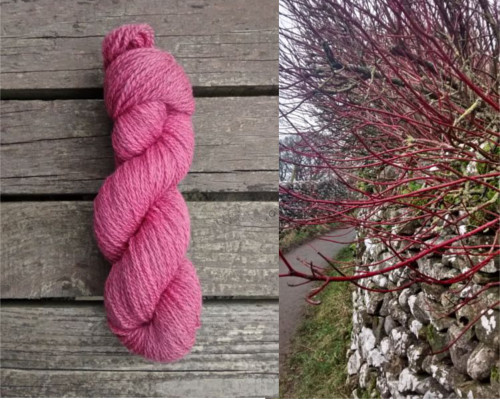 Even though there was plenty of colour, we were still dreamy of blues skies!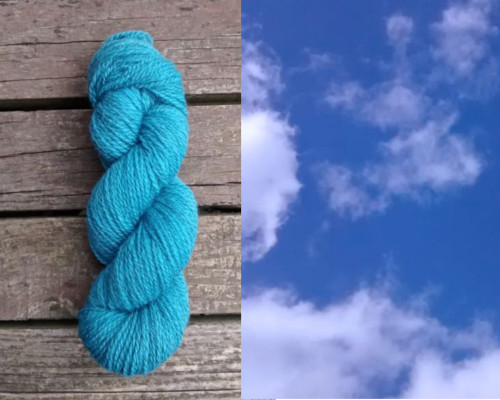 So there we have School of Flock, custom spun, limited edition British yarn.  Once it's gone, it's gone.  I'll be releasing batches on Etsy, and I'll have some in real life at Leeds Wool Fair on 3 June at Armley Mills Industrial Museum and in September at Yarndale.  Enjoy!