There's nothing quite like the feeling of a freshly washed brand new pair of hand knitted socks!   I began knitting these socks whilst minding my stall at Yarndale in September 2014.  Christmas knitting took precedence and I only managed to finish them a couple of weeks ago.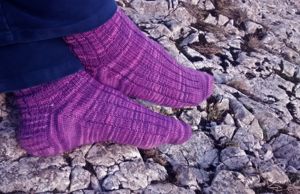 The pattern is Basic Ribbed Socks by Kate Atherley aka Wise Hilda Knits. This was the first ever sock pattern I knitted. It gives a good fit as the rib is a little bit stretchy and there's just enough interest to stop you getting bored, but it's easy enough that the fingers can take over and you can watch TV or have conversations with customers!
The yarn is my own Yan Sock base of 100% British BFL 4ply with a High Twist which makes it nice and robust for socks.  The colourway is Plumlicious, I love purples and dye a lot of purples, so it was important to have purple socks for me!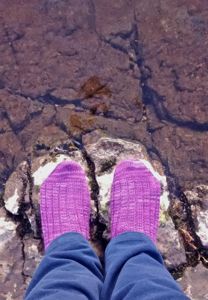 The socks took me for a walk at the weekend into The Dales for some winter sun and to get some photos in daylight!  They kept my feet toasty warm inside my boots. We met some sheep on the way, tucking into their winter hay rations.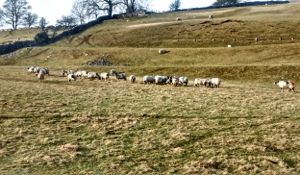 We also met a different kind of sheep, definitely a Swaledale, but this one wasn't much interested in hay!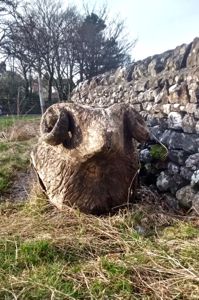 It did make a good spot for a cup of tea and some pork pie though!  The view was typically Dale-sy, hills, a few trees and plenty of dry stone walls, with a bit of snow and winter haze for atmosphere.